Pin It Now!
Long post alert!
My baby is ONE! How did this happen? His birthday was Friday the 13th this year (kinda rad, I think) and I took the day off of work so we could spend the day as a family celebrating our sweet boy. We drove up to
Avila Valley Barn
, about an hour away, and had the best time! Ayden got to meet and feed lots of animals. He got a kick out of the goats and one patient goat even let him yank on his ear.
Avila Valley Barn is an adorable spot and has a beautiful market full of local honey and produce, fresh pies and bakery items and lots of fun trinkets like vintage-style kitchen stuff and kids' books. Also on-site is a deli/bakery/candy and ice cream shoppe. After feeding the animals we ordered lunch from the deli and sat outside watching the farmer drive the tractor along the fields, which Ayden totally loved. Lunch was so yummy and Ayden enjoyed sharing my caprese sandwich with me.
We're the parents that let their kid stick his hands in the goat pen.
After lunch we decided to hit the road and work our way back south. We stopped in Los Olivos at
Enjoy Cupcakes
and got Ayden his very first cupcake for his birthday. :) Outside the shoppe was the cutest little picnic bench that was just his size. He looked so darn cute sitting there like a big boy chowing down on his cupcake! He threw the frosting on the ground but definitely liked the cake part.
On Saturday we had a little party for him at Steven's Park. It was a gorgeous day out and even though he was a no-nap-ninja he had fun playing on the playground with his friends. He was pretty pooped out by presents time, so Momma got to do most of the un-wrapping ;)
Party details
We didn't really have a "theme," per se, but kept everything green and blue. I'm a sucker for the little details, so I had fun with the little things. I put together some simple favor bags for the kiddos: glow stick necklaces and mini bubbles for all, superhero bandaids for the boys, princess mini purses for the girls, and for the older girl I found some mini nail polishes and damage-free hair ties. The bags were finished off with green and white kitchen twine and personalized thank you tags.
Dessert was provided by
Enjoy Cupcakes
and we had three cuppie flavors: chocolate with cream cheese frosting, raspberry cheesecake and mini salted caramel. They were a hit all around! Lunch was chicken, tri-tip, rice and beans from
Chicken Ranch
and I grabbed a big fruit salad from Whole Foods. (Ya like how I listed dessert first?? ha!)
I made a little smash cake for A, (recipe
here
) and made a basic buttercream frosting which I tinted blue with a couple drops of food tint gel. Although he loved his cupcake the day before, he gagged on the frosting on his smash cake and then was over it. Womp. Apparently Momma's bakery isn't as good as the pros. My favorite cake detail was the adorable cake topper I got from
Alexis Mattox Design
. It's too beautiful to toss, so I'm going to keep it in his baby book.
We had such a great weekend celebrating our sweet boy. I can't believe he is already a whole year old. I cried my eyes out tucking him into bed on the eve of his birthday but surprisingly was okay on his actual birthday. We are so proud of our sweet, inquisitive boy and are excited to see what the next year brings.
Happy birthday, Ayden Lucas. You are the light of our lives. We love you more than all the stars in the sky.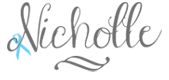 <a href="http://www.bloglovin.com/blog/9184723/?claim=mtxxjnrqr66">Follow my blog with Bloglovin</a>